She first made her debut in BL001 (Servine?) when she was discovered by SPC Snivy and his fanboys.
Name - The Servine
Age - 11
Gender - Female
Birthday - March 22, 2002
SPC Snivy Short Bloopers (The non-blooper series)
SPC Snivy Short BLOOPERS (The bloopers of SPC Snivy Short Bloopers)
The SPC Snivy/SuperChespin Show
This Servine is the only pokemon to get her artwork changed. This is due to SPC Snivy thinking she looked too "ugly" with her tail.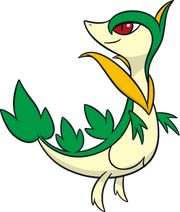 Community content is available under
CC-BY-SA
unless otherwise noted.