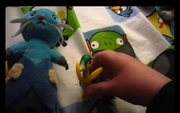 Servine is one of the main characters of the SPC Episodes. He first appeared in I CANT STOP THE BABY!!! He is set to evolve in Help Serperior be male again!!! In SPC Snivy Short Bloopers, he was taken out to make room for his female relative. It is unknown if he will come back or not, due to his relative needing room. 
Early development (old gender)
Edit
Like SPC's Dewott, Servine was originally going to be female, which would make them sisters instead of brothers. However, 1 second later, they were male right off the bat.
Name*: Bob (early developement as female)
Name: Grass Guy 
Gender - Male (Female in early development)
Birthday: March 21, 2000 (20 days younger than pignite)
Created: July 17, 1999
Female relative
Edit
Servine is the only pokemon to have a female relative, not counting SPC's Snivy (due to the fact that SPC Snivy is really a person and not a pokemon)
Community content is available under
CC-BY-SA
unless otherwise noted.